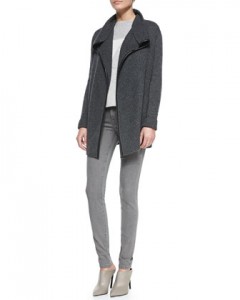 They are grey, lite blue and all the neutral colors and they are appearing all over Boston.
On the streets, at work, in schools, in offices and just about everywhere. You can buy them at almost any retailer from Macy's, Saks, Neiman Marcus, and Nordstrom  They come in all sizes and colors for women and for men too.
What is this new rage you ask? Grey, lite or neutral color mens and women's jeans. These are the new rage all over Boston. Even the New York Times has joined in with an in depth article about the new jeans and all the latest colors available. According to the N.Y. Times article, Italo Zucchelli at Calvin Klein made the grey jeans the cornerstone of his spring collection. Many of the most well known designers are jumping on the "grey" bandwagon singing the praises of grey in hopes of replacing the old stand-by's like olive, even black and white, at least for awhile.
Skinny, Super Skinny, High Waist, Boyfriend Jeans, Bootcut, High Rise, Straight Leg, Low Rise, Jegging, flare, you name the style and a popular manufacturer is turning them out. The new look is passionate with great selections of denim and new ranges of improved fit denim jeans. Women can add some additional glamour and style with minimal high heels, plain tee and fashion jewelry and have a perfect, stylish daytime outfit.
The great things about the new neutral colors:
They are trend proof and acceptable for wearing for various occasions. Flexible because you can wear neutrals with whatever other colors you like. All colors go with the neutrals. They are Style Savers and can be added to any outfit that you need to tone down and bring less attention to. Neutrals are outfit multipliers making it much easier to create several outfit combinations without having to ask yourself or someone else: what color goes with this?